Most who had the privilege to meet Mr W. Wanambi (b. 1962) would have considered it a great honour. He was not only an artist who was passionate about sharing his culture – Yolŋgu cultural knowledge – in fresh and innovative ways, but he played an incredible role in nurturing the next generation.
As a senior Yolŋgu artist and leader of the Marrakulu people, he was primarily known for his bark paintings and larrakitj (memorial poles), and began painting his clan's saltwater Country in 1997 (aged 35).
Mr Wanambi was also a curator, film-maker and Cultural Director of the Mulka Project – the video unit embedded within the important Buku-Larrnggay Mulka Center at Yirrkala, in north-eastern Arnhem Land – since its founding in 2007.
Mr Wanambi died in Darwin on Sunday aged 59. The Buku-Larrnggay Mulka Center has reported that while he had been experiencing health issues, his death was unexpected.
Mulka Centre's program and technical director, Joseph Brady, who worked closely with Mr Wanambi for over a decade, told Guardian Australia: 'His passing has changed our entire landscape.'
His words were echoed by Nici Cumpston, Curator of Aboriginal & Torres Strait Islander Art and Tarnanthi Festival at the Art Gallery of South Australia, who told ArtsHub: 'He pushed his ideas and tried his hand at many different mediums to share the associated cultural stories with the Marrukulu people of north east Arnhem Land.'
She added: 'Throughout his life he has played a key advocacy role nationally and internationally for Yolŋu artists.'
Mr Wanambi has been described as 'one of Australia's most respected First Nations artists', as 'a gentle and humble man' and 'a visionary leader', with a number of people commenting on his sense of humour.
Coordinator of the Buku-Larrnggay Mulka Art Centre, Will Stubbs, told Guardian Australia that Mr Wanambi was 'an artist who had no qualms in using his talent as a tool to further the rights of Indigenous peoples.'
Clothilde Bullen, Head of Indigenous Programs at Art Gallery of Western Australia, commented on Instagram: 'Just cannot believe this. Difficult to know what to say to you all because the impact of his passing from him is so monumental. We have all lost someone who can never be replaced and who was a true leader, creative genius and force for good.'
Liz Nowell, Director of the Institute of Modern Art (IMA) in Brisbane added: 'He was an amazing man on so many levels – a brilliant artist and cultural leader, but also a very deep introspective person with a wicked sense of humour.'
Agency Projects described Mr Wanambi on social media: 'His connection and foundation in culture remained the core of all his work and his creativity, his ambitious approach to how he represented his culture was scaled in innovative ways never seen before and he pathed a dynamic path of opportunity for generations to come.'
A visionary leader
One of the key moments of Mr Wanambi's career was his involvement in the Saltwater Collection, now housed at the Australian National Maritime Museum.
Forty seven Yolŋu artists from 15 clans and 18 homelands petitioned for sea rights by painting their Sea Countries onto bark. The paintings were considered the equivalent of title deeds to the sea rights of coastal waters. Almost a decade after their painting, in 2008 the High Court of Australia confirmed exclusive Indigenous sea rights.
Mr Wanambi's earliest paintings in 1997 were part of that significant project and expression of sovereignty.
In the decades since, he has participated in major exhibitions and communal arts projects, as well as playing a key advocacy role for Aboriginal artists and art centers across northern Australia.
I have memories of sitting on the beach of his homelands overlooking these waters, where the quietly spoken Mr Wanambi talked about his ancestral stories and the Gapu (water) monuk (salt).
To then see those words animated for his groundbreaking installation Djalkiri, for Tarnanthi 2019 was remarkable. Cumpston was curator of that exhibition and described it for ArtsHub, saying it 'had audiences spellbound'.
She continued: 'Djalkiri consisted of a large darkened room incorporating a suite of larrakitj each adorned with hundreds of finely painted sea mullet, along with an interactive projection onto the floor of the same swarming sea mullet that scattered as your feet got close.'
That edition of Tarnanthi took visitors through an understanding of clan systems, one that was accompanied by the shared knowledge of Mr Wanambi.
By that time he had been created multimedia installations for around five years. His first he was Nhina, Nhäma Ga Ŋäma (Sit, Look and Listen) in 2014, using digital archive cultural footage through The Mulka Project.
Within just four years, Mr Wanambi had won the most prestigious recognition for his digital work, taking the NATSIAA 3D ​​Award for his piece Destiny.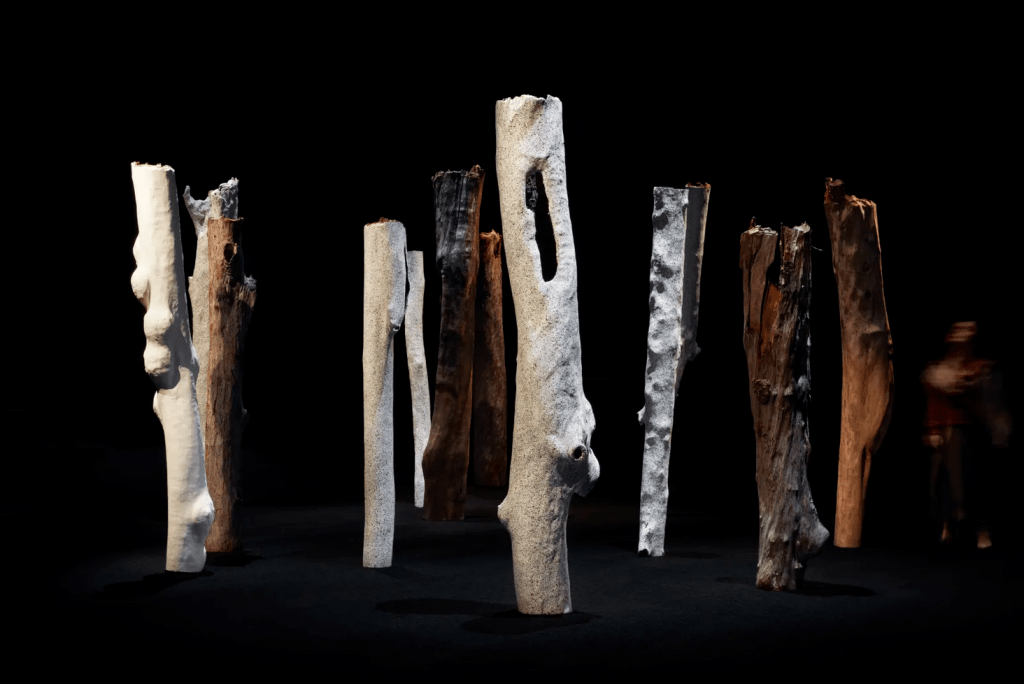 Working collaboratively
In 2017, Mr Wanambi undertook his first visit to the United States to begin work on the monumental research project and touring exhibition, Maḏayin: Eight Decades of Aboriginal Australian Bark Painting from Yirrkala, which he served as the lead Yolŋu curator, researcher and writer.
It will showcase seven decades of Yirrkala bark painting, and opens at the Hood Museum of Art in New Hampshire in September this year, after which it will tour the US for four years, including to Kluge-Ruhe Aboriginal Art Collection (University of Virginia) which was deeply involved in the project.
Agency Projects' CEO, Kade McDonald (a former manager at Buku-Larrnggay Mulka) collaborated with Mr Wanambi on the project. McDonald told ArtsHub: 'His unwavering commitment to cross-cultural practice helped change the approach and perspectives of institutional collection management and community access, through his advocacy for Yolngu guidance and collaboration in the museum sector. His methodology was simple; Kinship.
'Working with him all the way through this was a true honor and a joyous time of learning, unlearning and relearning,' McDonald continued. 'Mr Wanambi's commitment and passion to share his culture with the world could not be stopped by ill health or distance and this was a commitment he practiced and shared everyday.'
There are few other figures in Indigenous Australian art who have had such a measurable impact on an international level.

Henry Skerritt, Curator at Kluge-Ruhe Aboriginal Art Collection
Henry Skerritt, Curator at Kluge-Ruhe told ArtsHub: 'Mr. Waṉambi was a tireless advocate for putting Indigenous Australian art on the global stage. His willingness to work with museums and universities in Australia, the United States and Europe was simply unparalleled.
'This was not easy to work, and often put him in the difficult position of go-between, bridging the cultural divide between two very different worlds. But he did it with such generosity of spirit, courage and kindness that he was able to bring these worlds together in constantly innovative and meaningful ways,' Skerritt continued.
'It is devastating that he won't be able to see Maḏayin come to its fruition in September, but it will most certainly leave a profound legacy and a blueprint for re-thinking the ways in which museums around the world engage with Indigenous communities. Above all else though, he will be missed as a friend and mentor, whose boundless humor and energy were matched only by his restless pursuit of innovation in his art and thought,' Skerritt said.
Mr Wanambi was a founding member of the Agency Advisory Committee member; he was on the Board of Buku Larrnggay Mulka Art Centre, and a Director on the Board of Arnhem, Northern and Kimberley Artists (ANKA) Aboriginal Corporation. I have graduated from the Wilin Center for Indigenous Arts at the University of Melbourne, specializing in Indigenous Arts Management, in 2014.
His work can be currently seen in the exhibition eucalyptusdom at the Powerhouse Museum, which commissioned Wanambi's installation Mittji and acquired it in 2021. It remains on show until 28 August.
He also has a work currently showing at Art Gallery of New South Wales, produced in 2020 together with the Mulka Team: Watami Manikay.
Cumpston added that most recently Mr Wanambi had been creating works on metal, and that a major exhibition of his work will open at Michael Reid Gallery in June 2022.
Mr Wanambi's works are held in important collections internationally, including the British Museum, the Kluge-Ruhe Aboriginal Art Collection of the University of Virginia (USA), Musee de Lyon (France), Museum Fünf Kontinente (Germany), Museum Kunstwerk (Germany) , Fondation Opale (Switzerland), as well as the National Gallery of Australia, the National Museum of Australia, Museum of Contemporary Art Australia, and the Holmes a Court Collection.
He is survived by his wife, Warraynga, who is also an artist, their five children, and several grandchildren.